No matter how healthy and young you feel on the inside, your skin may be showing signs of ageing.
Skin Rejuvenation treatments make it easier and more convenient than ever before to rewind the clock and uncover that rosy glow of youth you're looking for! It's all about enjoying fresher, vibrant, younger-looking skin – minus the surgery.
Skin rejuvenation treatments effectively target and remove unwanted skin imperfections such as wrinkles, sun damage, fine lines, redness and acne scarring, as the new skin cells that form during healing give your skin a tighter, younger looking surface.
Skin rejuvenation treatments can be delivered on their own, or in any combination, to achieve overall improvement in all aspects of skin quality.

Micro Magic
Medical resurfacing treatment using diamond crystals that encourages skin turnover, reducing pore size, soothing scarring, improving texture, evening skin tone, resulting in healthier, smoother, glowing skin. With the infusion of stimulating antioxidants, this treatment is ideal for the tired skin or the young skin needing a challenge.

Express $65 / Full Multiplatform $120
Dynamic Needling
Micro-needling of the skin stimulates new skin growth and activity resulting in activity to reduce scars, fine lines, pore size and texture even in the most stubborn of skins. Minimal downtime and discomfort. Infusion of vitamins and moisturisers into the skin calms the skin and hydrates it for best results.

$199 per treatment / $450 for 3 treatments
Power Peels
Peels available for all skin types and all levels of skin stimulation. Perfect for managing pigmentation, poor tone, texture or discolouration.
These treatments are effective with minimal downtime.

$100 per treatment / $250 for 3 treatments
Rosacea Relief
Gently treating redness in the skin reducing inflammation, irritation and sensitivity. Promoting healthy well functioning skin with good cell renewal and stabilisation of the dermis.

$100 per treatment / $250 for 3 treatments

Acne Attack
Healing peel for addressing active acne and then scarring.
Reduces breakouts and congestion in the skin.

$100 per treatment / $250 for 3 treatments
We endeavour to make our process as simple, transparent and comfortable as possible.
1. Phone Consult
Our reception staff will ensure you're able to receive aesthetic treatment.

2. Consultation & Plan
Every face is different and so is every plan. We'll tailor a plan to suit your goals and facial structure.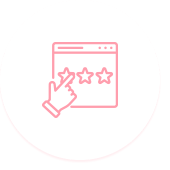 3. Treatment & Aftercare
Depending on your plan or treatment, you may need more than one appointment. Once satisfied, we'll guide you with any aftercare requirements.
Frequently Asked Qestions
What are wrinkle relaxers?
Wrinkle relaxers are injectable muscle relaxants. These muscle relaxants have been used for many years to treat muscular spasms and disorders as well as nerve disorders and chronic eyelid twitches.
But over the last 25 years, injectable muscle relaxants have become a common cosmetic treatment for reducing the appearance of wrinkles.
Hence the cosmetic term 'wrinkle relaxers'.
Wrinkle relaxers are an effective, temporary treatment commonly used to reduce unwanted crow's feet, frown lines, forehead lines, lines along your upper lip, scrunch lines along the nose and neck bands.
Are they painful?
During the procedure you may experience a stinging sensation, but this is so short-lived you will have completely forgotten about it by the time you walk out the door of our cosmetic skin clinic.
After the procedure you may experience some minor bruising or headaches, but this too will only be a temporary discomfort.
What do wrinkle relaxers treat?
Wrinkle relaxers are used to treat dynamic wrinkles, which is the type of line formed by repetitive muscle movement.
For example, someone who works outdoors and squints frequently may develop crinkles around their eyes or vertical lines between their eyebrows.
The areas that are commonly treated with anti-wrinkle injections include the forehead, between the brows, around the eyes, around the bridge of the nose, the corners of the mouth and the neck.
How long does it take?
Injectable wrinkle relaxers can be performed in as little as 15-minutes, as it's a non-surgical procedure that involves injections into the problem areas around your face.
Most appointments are 45-60 minutes.
Are there any side effects?
There are few or no side effects with wrinkle relaxers.